Welcome to CARTER COUNTRY, your source for WATER GARDENING SUPPLIES and INFORMATION.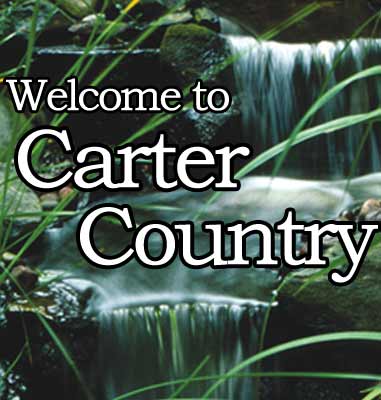 We carry a HUGE supply of POND LINER (and our POND LINER is FISH SAFE !), BIOLOGICAL FILTERS, SKIMMERS, PUMPS, PLUMBING and PLUMBING ACCESSORIES, Complete POND KITS, PONDLESS WATERFALL SYSTEMS, CONSTRUCTED WETLAND FILTERS, POND AERATION and FILTRATION SYSTEMS, DECORATIVE FOUNTAINS, RAIN WATER HARVESTING SYSTEMS, UNDERWATER LIGHTING, UV CLARIFIERS, VALVES, INSTALLATION TOOLS, KOI FOOD, FISH NETS, FISH MEDICATIONS , WATER TREATMENTS and just about everything else you will need to DESIGN, BUILD and MAINTAIN your WATER GARDEN . We even carry a full line of SEASONAL POND SUPPLIES like LOW/COLD TEMPERATURE BACTERIA, LOW/COLD TEMPERATURE FISH FOOD, WATER CLARIFIERS, FLOCCULANT, DE-CHLORINATOR, BARLEY EXTRACT and many other SEASONAL WATER TREATMENTS. We are glad you found us and we want to help you in any way we can. If you have any questions about a product we carry please feel free to give us a call. We are a little different from most companies selling POND SUPPLIES out there; We actually INSTALL the products we sell! We have been DESIGNING and BUILDING PONDS, WATERFALLS, STREAMS, CONSTRUCTED WETLAND FILTERS and RAINWATER HARVESTING SYSTEMS since 1989, and we are here to help you "Do it right the first time" by offering the VERY BEST PRODUCTS ON THE MARKET TO USE IN YOUR WATER GARDEN ! We want you to succeed with your goal of a BEAUTIFUL, LUSH and most importantly, LOW MAINTENANCE WATER FEATURE of your dreams! So, come on in and look around, ya'll are WELCOME!
While you're here, visit our NURSERY by clicking the link below or just drop on by, people drive from as far as MISSISSIPPI, ALABAMA, GEORGIA, ARKANSAS, KENTUCKY and MISSOURI to shop at our NURSERY and people from as far away as CALIFORNIA, NEVADA and NEW YORK buy ALL their POND SUPPLIES and FISH FOOD from us via this web-site ! It ain't much but we call it PARADISE !